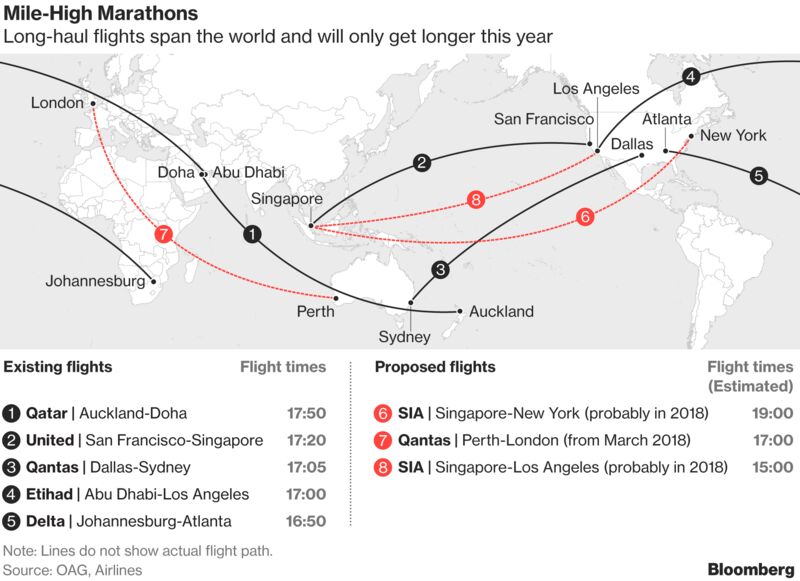 A wave of ultra-long flights that will get you halfway around the world in one hop is pushing airlines to deal with the one extra you can't escape: Relentless insomnia, debilitating fatigue and tormented bowels, better known as jet lag.
Qantas Airways Ltd., which will start the first non-stop service between Australia and Europe in March, is working with scientists in Sydney to discover ways to limit body-clock breakdown on the 17-hour flight. They've tried to make the color and intensity of the jet's interior lights mimic dawn and dusk. Cabin temperatures and specially made meals will aim to put passengers to sleep or keep them awake—depending on the time at the destination.
Key to the problem is circadian disruption—messing with the internal body clock that regulates everything from brainwave activity to hormone production and cell regeneration.
The main cue for resetting that clock is light, said Steve Simpson, academic director of the Charles Perkins Centre, which is carrying out the research with Sydney-based Qantas. But there's a baked-in biological catch: the clock can only reset by about 90 minutes a day, even in the right conditions. An ill-timed dose of sunshine or a badly chosen snack at the wrong hour can mean days of suffering, he said.
Angus Whitley, Bloomberg, February 5, 2018